3Di Systems Awarded SOC 2 Type II Certification
Press Release | March 21, 2022

BREA, CA — March 21, 2022. 3Di Systems (3disystems.com), a leader in public sector software solutions, has achieved SOC 2 Type II certification from VISTA InfoSec through their independent CPA.
The independent audit included rigorous scrutiny of 3Di's security practice, "assuring the suitability and effectiveness of the service organization's controls in context to security, availability, processing integrity, confidentiality, and privacy."
With this accreditation, 3Di Systems has received one of the highest data security certifications for the industry. It is evidence of the organization's dedication to maintaining and ensuring the security of sensitive data.
"With clients across law enforcement, public safety, public health, and other sensitive fields, we have always held the security and privacy of our customers' data in the highest regard. We are proud to have received formal verification that our systems and processes maintain strict adherence to the policies and procedures necessary to protect our customers' critical information." Rajiv Desai, CEO and Founder
The SOC 2 Assessment Report demonstrates 3Di's efforts and commitment to establishing robust security controls that safeguard clients' interests. The report provides detailed information and assurance about 3Di's security, confidentiality, availability, processing integrity, and privacy controls, based on the assurance of compliance with the American Institute of Certified Public Accountants (AICPA) Trust Services Criteria (TSC).
3Di Systems' achievement of SOC 2 Type II Certification is an assurance to its customers that the organization is committed to and highly invested in maintaining a strong security program that provides the highest levels of data security and privacy.
The 3Di prevention software is very user friendly and
powerful, with a multitude of capabilities that have helped
us bring our inspection program under complete control.
ROBERT MONTAGHAMI, FIRE MARSHAL OF LA HABRA HEIGHTS
3Di creates powerful software solutions that empower governments and organizations to create stronger communities. Places where people feel safer, more engaged, and full of hope for their futures. For over 20 years, the 3Di team has been dedicated to helping people strengthen their communities, and that passion can be seen in every solution they provide. The 3Di Engage software platform and related products and services are designed specifically to maximize impact in the areas of housing, citizen engagement, public safety, and more.
VISTA InfoSec is a globally known and established CyberSecurity Audit and Advisory firm offering SOC2 Attestation audit and consulting services and other services such as PCI DSS, PCI SSF, GDPR, HIPAA, CCPA, etc. They have been in the industry for more than a decade (16 years) and have helped organizations in their compliance and audit process. Their in-house team of experienced compliance and audit professionals can guide organizations in implementing relevant security controls and establishing strong security programs.
Get the power of the 3Di Engage platform.
Our housing products are built with 3Di Engage, a powerful software as a service (SaaS) platform designed for the way you work. This robust foundation means you can get up and running in a flash, avoid data and system silos, and easily add new solutions down the road. Plus, it runs on Amazon Web Services, which provides industry-leading reliability, security, compliance, and affordability.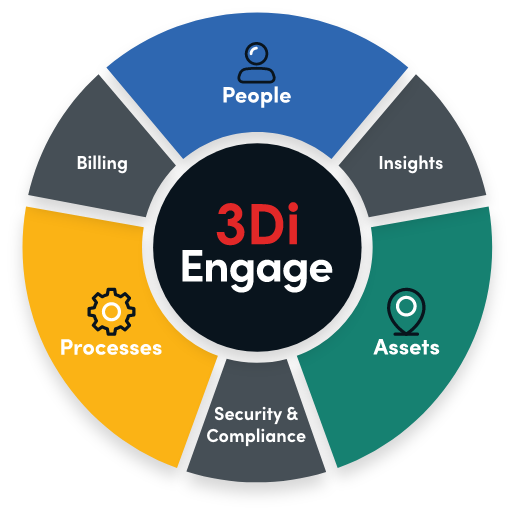 A better world, one community at a time.
States, cities, and organizations across the country are using 3Di solutions to improve countless lives. Their work is what drives us.
Years of Experience in
Public Sector
Government Solutions
Delivered
Communities in
22 States Empowered
People Served with
3Di Solutions
Learn more about the impact the 3Di Engage platform can empower for your organization.