This relates to the Master Agreement By and Between County of Los Angeles Internal Services Department and 3Di, Inc. for Information Technology Support Services.
CATEGORY 1: Mainframe/Midrange Systems Design and Application Maintenance

CATEGORY 2: Mainframe/Midrange Operating Systems Programming/ Administration

CATEGORY 3: Mainframe/Midrange Database Administration

CATEGORY 4: Desktop Consulting and Application Development

CATEGORY 5: Client/Server Application Systems Planning and Development

CATEGORY 6: Network Services

CATEGORY 7: Technical Specialist Consulting

Subcategories:

7A – Information Systems Re-Engineering

7B – Video, Voice, and/or Imaging Systems Development

7C – Capacity Planning/Rightsizing Evaluations

7D – System and/or Management Audits

7E – System Requirements/Technical Architecture Studies

7F – Data Administration Activities

7G – Project Management of Projects Applicable to all Skill Categories

7H – Long-Range Information Systems Planning

7 I – Technical Facilities – Requirements/Technical Architectural Studies/Project Management/etc.

7J – Business Continuity, Availability Management, and Disaster Recovery Planning

CATEGORY 8: Mainframe/Mid range Application Server Administration

CATEGORY 9: Business Intelligence (BI), Data Warehouse/Data Mart (DW/DM), and Business Analytics and Data Mining (BA/DM) Design and Development –

Subcategories:

9A – Business Intelligence (BI) Development

9B – Data Warehouse (DW) / Data Mart (DM) Development

9C – Business Analytics (BA) and Data Mining (DM) Development

CATEGORY 10: Web-Based Development Services

CATEGORY 11: IT Service Management Specialist /Consulting

Subcategories:

11A – ITSM Program/Project Manager

11B – ITSM Business Liaison 1

1C – ITSM Service Manager

11D – ITSM Process Owner

11E – ITSM Process Manager

11F – ITSM Communication, Branding, and Marketing Specialist/ Consultant

11G – ITSM Tooling Architect

11H – ITSM Tooling Analyst

CATEGORY 12: Communications Support Services
Get the power of the 3Di Engage platform.
Our housing products are built with 3Di Engage, a powerful software as a service (SaaS) platform designed for the way you work. This robust foundation means you can get up and running in a flash, avoid data and system silos, and easily add new solutions down the road. Plus, it runs on Amazon Web Services, which provides industry-leading reliability, security, compliance, and affordability.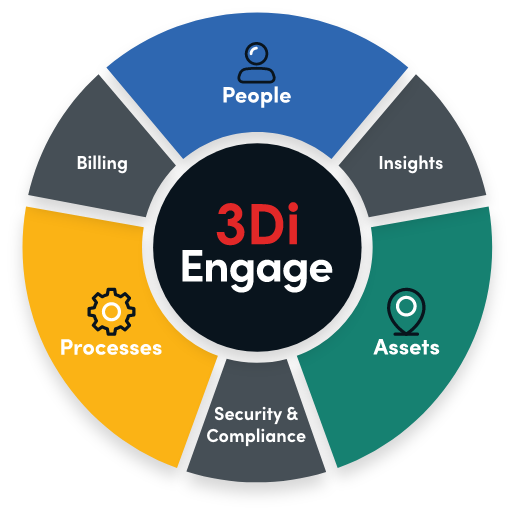 A better world, one community at a time.
States, cities, and organizations across the country are using 3Di solutions to improve countless lives. Their work is what drives us.
Years of Experience in
Public Sector
Government Solutions
Delivered
Communities in
22 States Empowered
People Served with
3Di Solutions
Learn what are technology services can do for you.