Under GSA's Information Technology (IT) Schedule 70 Contract, all authorized government agencies and state and local government entities can purchase information technology services or products from 3Di. Purchasing services through the GSA Schedule can save time and millions of dollars a year in procurement costs.
3DI's GSA IT Schedule GS-35F-291AA offers solutions for a broad range of information technology requirements. Information Technology Professional Services – SUBJECT TO COOPERATIVE PURCHASING Includes resources and facilities management, database planning and design, systems analysis and design, network services, programming, conversion and implementation support, network services project management, data/records management, and other services relevant to 29CFR541.400.
3Di is offering Software development and consulting services under GSA under the following "Special Item Numbers" and codes:
SIN 132-51 – INFORMATION TECHNOLOGY (IT) PROFESSIONAL SERVICES – SUBJECT TO COOPERATIVE PURCHASING
| | |
| --- | --- |
| FPDS Code D301 | IT Facility Operation and Maintenance |
| FPDS Code D302 | IT Systems Development Services |
| FPDS Code D306 | IT Systems Analysis Services |
| FPDS Code D307 | Automated Information Systems Design and Integration Services |
| FPDS Code D308 | Programming Services |
| FPDS Code D310 | IT Backup and Security Services |
| FPDS Code D311 | IT Data Conversion Services |
| FPDS Code D313 | Computer Aided Design/Computer Aided Manufacturing (CAD/CAM) Services |
| FPDS Code D316 | IT Network Management Services |
| FPDS Code D317 | Creation/Retrieval of IT Related Automated News Services, Data Services, or Other Information Services (All other information services belong under Schedule 76) |
| FPDS Code D399 | Other Information Technology Services, Not Elsewhere Classified |
Get the power of the 3Di Engage platform.
Our housing products are built with 3Di Engage, a powerful software as a service (SaaS) platform designed for the way you work. This robust foundation means you can get up and running in a flash, avoid data and system silos, and easily add new solutions down the road. Plus, it runs on Amazon Web Services, which provides industry-leading reliability, security, compliance, and affordability.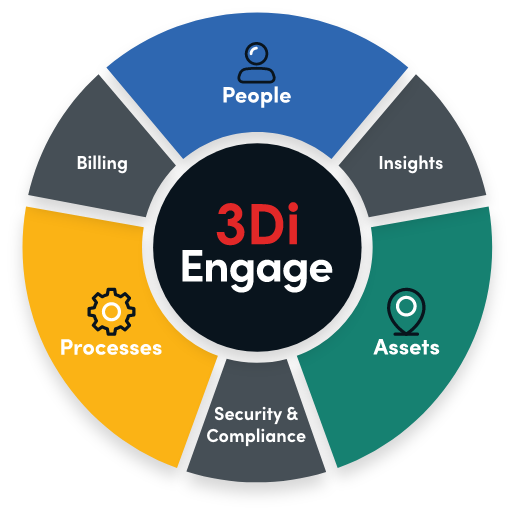 A better world, one community at a time.
States, cities, and organizations across the country are using 3Di solutions to improve countless lives. Their work is what drives us.
Years of Experience in
Public Sector
Government Solutions
Delivered
Communities in
22 States Empowered
People Served with
3Di Solutions
Learn what are technology services can do for you.