Automating Community Engagement Workflows for the Los Angeles Department of Water & Power
Los Angeles Department of Water & Power

WebCenter Suite, SOA Suite, Web Portal Oracle Application Development Framework

The Los Angeles Department of Water & Power (LADWP), the largest municipal electric utility in the US, serves over 1.4 million residential and business customers. With a team of nearly 10,000 employees and operations financed solely through the sales of water and electric services, LADWP wanted to increase community transactions on their existing website portal, reducing both phone and in-person transactions.
To accomplish this, they aimed to automate processes for community service requests regarding power and water outage, and other related issues. This involved understanding the various service requests that came to their department for resolution, and making sure these requests were resolved promptly.
3Di offered the best all-in-one solution that we were
looking for – to serve as that umbrella platform that
meant any other platform could tie into in the future.
In 2010, LADWP partnered with 3Di to overhaul their existing website and integrate it with their internal systems, including their customer billing and CRM systems. The project transformed their web portal into a user-friendly tool that could be easily accessed from both web browsers and mobile devices, allowing LADWP to:
Increase customer/community transactions on the web, thereby reducing transactions via IVR
and walk-up.
Automate and digitize many paper-based processes.
Provide a customer-focused, user-friendly design.
Automate common customer service functions such as account management, bill history, payment history, usage analysis, service requests, and consumer rebate processing.
Provide multilingual support in both English and Spanish.
Ensure compliance with Section 508 (ADA).
Implement distributed authorship, allowing for multiple content contributors.
Enable mobile access for customers.
Implement outage e-notifications via the website.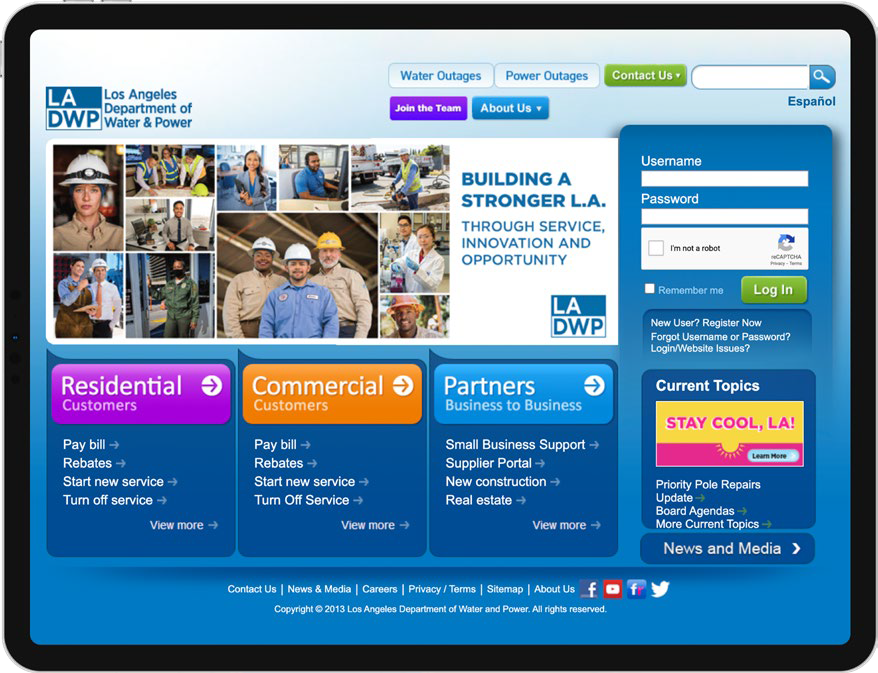 Learn more about the impact the 3Di Engage platform can empower for your organization.